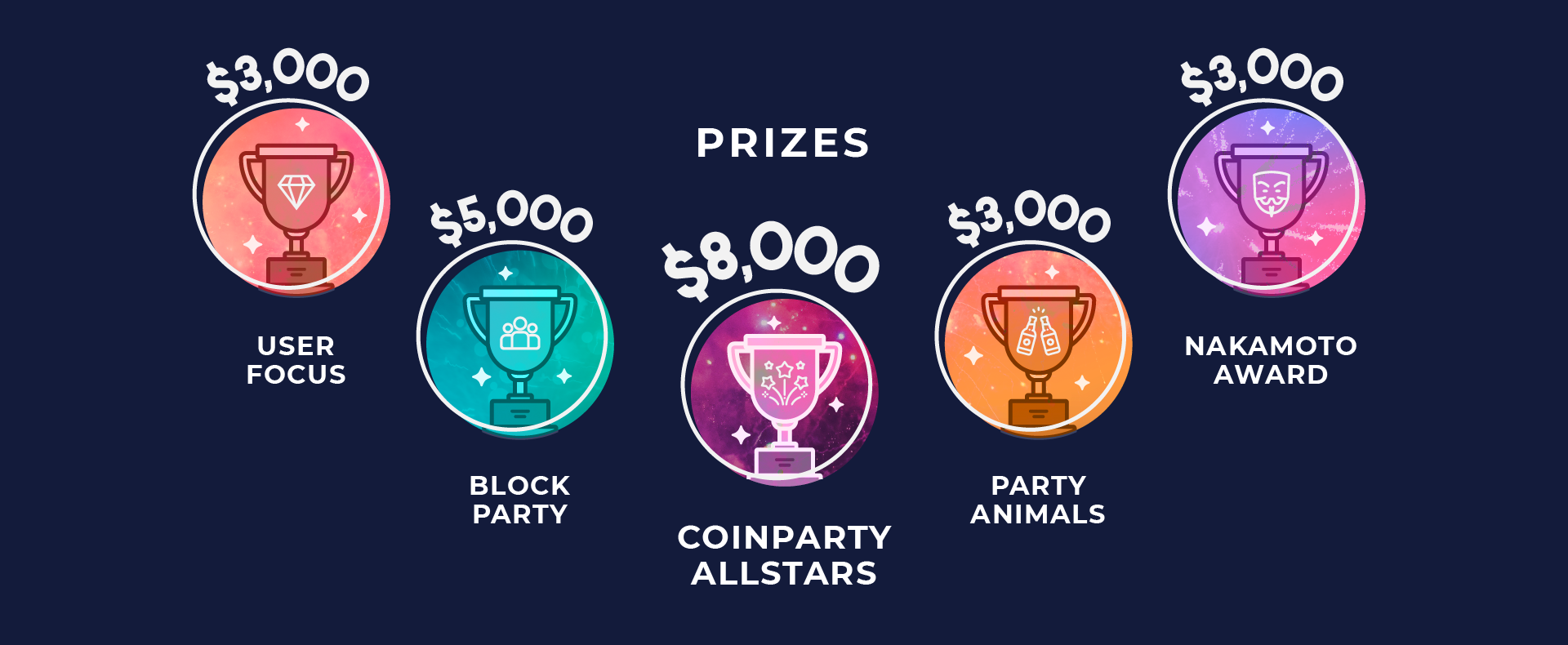 Overview
What kind of hackathon would we be hosting if we didn't have prizes?! So we've got lots of amazing (Bitcoin) Cash prizes lined up for the best projects. We want to make sure the best teams get the resources required to take their projects further after the hackathon ends.
There will be a number of prizes available totalling at least $15,000. We aim to have this prize pool topped up even further through a Flipstarter campaign and other partnerships.
The available prizes are:
CoinParty Allstars Prize = $8,000
Block Party Prize = $5,000
Nakamoto Prize = $3,000
User Focus Prize = $3,000
Party Animal Prize = $3,000
The bounties available are:
B2B Bitcoin Cash = $1,000
OpenBCH = $1,000
Prizes
CoinParty AllStars Prize
$8,000
The grand winning team of CoinParty2020 will receive the CoinParty Allstars prize. The judges will be taking all factors into account when deciding on this prize.
Block Party Prize
$5,000
The Block Party prize will be split across the teams through community voting. We will be handing out 1,000,000 CoinParty Kudos tokens across the BCH ecosystem, and each token will be used to vote on how this prize will be shared across the completed projects.
Nakamoto Prize
$3,000
This prize will be given to the team that has the most innovative project. Bitcoin was one of the greatest innovations of the past two decades. Will you create something that lives up to that?
User Focus Prize
$3,000
The User Focus prize will go to the project with the best UI and UX. Let's get some beautiful and elegant products built!
Party Animal Prize
$3,000
This prize will be given to the team that has and creates the most fun and excitement. CoinParty isn't just about building it's also about having an awesome time doing it! Whoever brings the most fun to the party will win this prize.
Bounties
A number of bounties have been provided by generous members of the Bitcoin Cash community to encourage specific usecases.
B2B Bitcoin Cash
$1,000
The focus of adoption in crypto, and especially in Bitcoin Cash, is typically on merchants, banking, speculation and other services at the retail level. However, P2P cash is for everyone and peers do not have to be retail merchants and consumers. It is my belief that there are massive, unexplored, non-retail use cases that could bring a large amount of real economic activity to the BCH network. I would like to encourage teams to identify and work on a solution to one of those use cases.
The bounty will be divided evenly between all teams that meet the judgement criteria.
It must be an economic use case that uses BCH as money. For example, projects that use BCH exclusively as a token or data carrier will not qualify.
The use case must be specific. For example to an industry, company, organization, product or service.
Solutions must meet a minimal quality and effort bar which due to lack of time to specify will be subjectively judged by me.
This bounty was contributed by and will be decided by emergent_reasons.
OpenBCH
$1,000
This bounty if for a project that results in software that interacts and integrates well into existing pieces of open source Bitcoin Cash software. The target software should be standalone and have a user interface whether graphical or command line, as opposed to being a library that only functions as a component of another project. Examples include one of the full nodes, the Electron-Cash wallet, the RPC explorer, Flipstarter, and so on. There should be meaningful interaction, to be determined by the judges, beyond simply sending coins from one wallet to another.
With this bounty, I hope to promote more interaction between projects in Bitcoin Cash, which enhances usability and longevity for all projects involved.
Good luck to all participants, and thank you for contributing to peer to peer electronic cash!
This bounty was contributed by and will be decided by imaginary_username.