The January 2021 CoinParty hackathon has come to an end and, with around 100 developers having put together over 30 Bitcoin Cash projects, Bitcoin Unlimited's goal of bringing new developers into the BCH ecosystem has already been a success. But it doesn't stop there! We're encouraging all teams to continue their work, either by establishing a business model or securing funding. With over $24,000 in prizes, our winning teams will, of course, already have some funds to work with.
The event itself was hosted on DevPost, and we're delighted to say that many of our participants found CoinParty through that platform. The week began with our opening ceremony which you can see below.
https://www.youtube.com/watch?v=1imk4oeVDEU
Hackers then started meeting and coordinating in the Bitcoin Unlimited Slack channels. All participants were encouraged to team up, so that each project could be given the attention of multiple hackers with a diverse set of skills. After hackers' relevant skills were declared, ideas were brainstormed and teams were formed.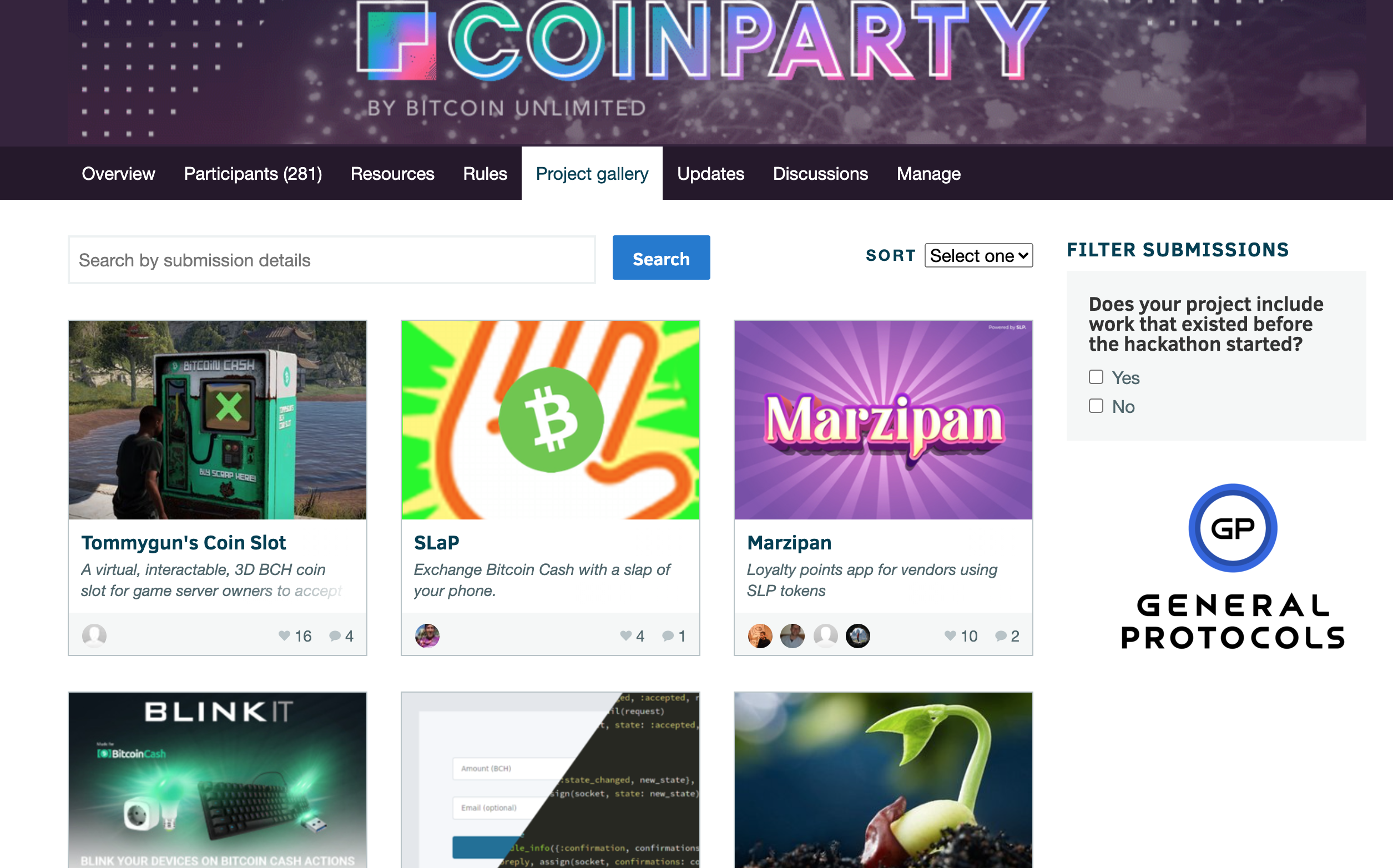 All teams had access to our event Mentors, a group of experienced Bitcoin Cash developers who could help with technical questions and provide resources. Hackers were also welcome (and encouraged!) to work on existing projects, as long as they declared the state of the project before the hackathon started.
As teams dug into their projects and planned out minimum viable products, we checked in with many of them to hear about what they were building, what tools they were using, and how it was going. You can watch these check-in interviews on YouTube below for a taste of what it's like to be halfway through a 1-week Bitcoin Cash hackathon. Our hackers had already brought an impressive number of interesting Bitcoin Cash ideas into existence!
https://www.youtube.com/watch?v=pF1NlFH8ZMg&list=PL4IgwHUgjF5fGZmEV7zKdMd09VKYdrXAd
As the submission deadline grew closer, participants shifted gears from hacking to preparing their final presentations. The videos trickled in, slowly at first, each with a wave of support from fellow hackers. Between the impending deadlines, cooperative environment, and general excitement of building something totally new, CoinParty provided an inspirational atmosphere.
You can see the awards ceremony on YouTube, but here's how things turned out!
https://www.youtube.com/watch?v=Jt_On9ux5vQ
Nakamoto Prize
This $3000 prize went to Swap.Cash for their constant product market maker that automatically provides liquidity between BCH↔SLP pairs.
An honorable mention went to Paytaca for their Bitcoin Cash wallet built to support offline transactions.
User Focus prize
This $3000 prize went to Tommy Gun's Coin Slot, which integrated Bitcoin Cash payments directly into the gaming experience on his Rust server.
An honorable mention went to Splitseed, which implemented a scheme for backing up wallets non-custodially, but with a familiar account recovery mechanism.
Party Animal prize
This $3000 prize went to fridge.cash for their excellent attitudes and smart fridge design, which allows you to accept BCH payments, and then send a BCH transaction automatically when stock is depleted.
An honorable mention went to CoinToys for their flagship product "FreeVibe", a vibrating sex toy that reacts to Bitcoin Cash payments.
CoinParty AllStars prize
This $8000 prize went to Geodrop.cash, a platform for dropping and claiming tokens at physical locations. (Think "Pokemon Go" with a real-world-rewards and advertising spin.)
An honorable mention went to BitPal, a self-hosted BCH payment processor with double spend proof detection already implemented.
BlockParty prize
This $5000 prize was distributed to teams based on their share of the CoinParty Community Kudos voting tokens. Congrats to the top voted teams for capturing the hearts of the BCH community!
Surprise Prizes
Because of the exceptionally high quality of projects submitted for this hackathon, the judges created two new prizes to recognize more projects. The $500 Interoperability prize went to Slp-Ship, which allows you to wrap Bitcoin Cash SLP tokens on Ethereum, and the $500 Adoption prize went to OnlyCoins, a Bitcoin Cash enabled clone of OnlyFans.
Bounties
Emergent Reasons' bounty for a non-retail application was split between fridge.cash and CryptoScrum. Imaginary Username's bounty for projects that integrate with existing Bitcoin Cash infrastructure was split between BCH Market Bot and Slp-Ship.
Bursaries
And finally, all participants on a team that completed a project that met submission requirements were awarded with a $50 bursary as a thank you for participating, and developing on BCH. We hope you all continue your projects and look for support and/or business partners in the BCH ecosystem.
Our Partners
Thanks to our partners General Protocols and Satoshi's Angels, without whom this hackathon would not have been near the success it was. Thanks to all judges, mentors, and organizers for your time and effort. And thanks to the Bitcoin Cash community for being so welcoming and encouraging.
Was CoinParty Successful?
You bet! After the hackathon was over, we ran a survey to gauge our success, and gain insight into how we can improve future hackathons. Roughly half the participants responded.
A few key insights:
100% of the respondents said they would take part in the hackathon again in the future.
On the question 'How likely are you to recommend the CoinParty hackathon to someone else?', the average response was 6.8/7 (7 being 'Definitely').
77% of respondents said they intend to continue to build upon their project and the 23% said they might do.
94% of respondents said they will continue to be involved in the BCH community.
We also received valuable feedback on what the hackers did and did not like about the hackathon. All of this info will be used to make the next CoinParty event even bigger and better. We're proud to say that this first event has already exceeded our expectations and targets, and we're excited to make CoinParty a Bitcoin Cash tradition.
Thanks For Your Support
CoinParty is brought to you by Bitcoin Unlimited. BU has been committed to scaling Bitcoin (now Bitcoin Cash) as peer to peer electronic cash for the world since 2015. You can learn more about the organization itself, our projects, and events like this one at bitcoinunlimited.info.
We look forward to hosting more exciting events like CoinParty in the future!
Want to get involved? Come join us on our Telegram group at t.me/bitcoinunlimit.